Doctors & Staff
Meet the experienced and friendly doctors and staff who make Emerald Coast Eye Care the leading provider of vision care products and services in Panama City.
---
Dr. W. Payton Patterson
Dr. Patterson was born in Murray, Kentucky and spent his childhood in the small town of New Concord, KY. Upon graduating from Calloway County High School, Dr. Patterson attended Harding University in Searcy, Arkansas, where he received his Bachelor of Science degree in Biology. Dr. Patterson went on to further his education at the University of Alabama at Birmingham, and received his Doctorate of Optometry in 2008.
Dr. Patterson provides comprehensive eye care including treatment and management of glaucoma, pre- and post-operative cataracts, eye infections, minor eye injuries, and the fitting of contact lenses and glasses. He fits many bifocal, RGP (hard contact lenses), and challenging toric (astigmatism) contact lens patients.
Dr. Patterson in board certified by the states of Florida, Alabama and Georgia. He is a member of the American Optometric Association, Florida Optometric Association, West Florida Optometric Association, and Alabama Optometric Association.
In his spare time Dr. Patterson enjoys spending time with his wife, Kristy, and their sons, Will and John Andrew. He also enjoys many outdoor activities, including fishing, boating and bike riding. Dr. Patterson is an active member at the Jenks Avenue Church of Christ.
---
Mr. Paul Peterson
Emerald Coast Eye Care is thrilled to have Mr. Paul as a member of our team!
Mr. Paul was born and raised in Bay County, FL. He attended Springfield Elementary, Everitt Jr. High, Rutherford High School and Gulf Coast Community College. He currently resides in Callaway, FL.
Throughout Mr. Paul's 30+ years experience in the optical industry, he has worked with thousands of patients, helping them find the perfect frames and lenses to meet their needs. He specializes in recommending frames that compliment every face shape and size. As an expert in lens materials, designs and treatments, he is a great resource for any questions about your eyewear.
In his spare time, Mr. Paul enjoys spending time with his friends and family, especially his wife, Teri, and their children and grandchildren.
---
Mrs. Kristy Patterson
Kristy was born in Baton Rouge, LA (Geaux Tigers!), and moved to Bay County with her parents, Jim and Marsha Holsombake, when she was 2 years old. After graduating from Mosley High School in 1999, Kristy moved to Searcy, AR, where she attended Harding University. She received her BBA in business management in 2002 and her MBA in August 2003. Harding University is also the location where she met her husband. They were married in June 2002.
Prior to the opening of Emerald Coast Eye Care, Kristy worked as a Financial Advisor with Ameriprise Financial. Since August 2009, she has served as the office manager for Emerald Coast Eye Care.
In her free time, Kristy enjoys traveling, watching pretty sunsets, going for walks and spending time with her friends and family, especially her husband and two sons. Kristy and her family are active members at the Jenks Avenue Church of Christ.
---
Mrs. Dana Hysmith, CPOA
Dana joined the Emerald Coast Eye Care team in November 2010 and became a Certified Paraoptometric Assistant in May 2015. She has been in the eye care industry since 2007 and has worked in customer care for over 13 years.
Dana was born in Warner Robbins, GA. Because her father was in the military, their family traveled a lot until Dana's father retired in Panama City, FL when she was 10 years old. Dana now resides in Wewahitchka, FL, with her husband, Timbo, and their four children, Dustin, Brooke, Caroline and Georgia Rey.
---
Mrs. Eve Keen
Eve joined the Emerald Coast Eye Care team in October of 2011. Eve was born and raised in Atlanta, Georgia, and moved to Panama City Beach, FL in 1999. Eve has over 30 years experience in the medical field. She enjoys meeting new people and making them feel comfortable when they come in to see the doctor. Eve is married to Del Keen, who was born and raised in Panama City. She has one son, Max, and two stepdaughters, Katie and Emily. In her spare time, Eve spends time with family and friends.
---
Mrs. Donna Redmon
Donna joined the team at Emerald Coast Eye Care as a receptionist in June of 2012. She assists with scheduling and greets patients as they check-in for appointments. Donna is a lifelong resident of Panama City and a graduate of Bay High School. Donna enjoys spending time with her family and friends and being creative through sewing and embroidery. She is also an active member of Jenks Avenue Church of Christ.
---
Mrs. Cyndi Cleghorn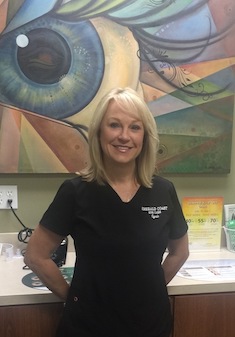 Cyndi joined the Emerald Coast Eye Care team in November 2015.  She is a Panama City, FL native (born and raised) who has over 18 years in the eye care industry.  Cyndi has one son who is currently attending college.  Cyndi loves spending time outdoors, and especially loves a pretty sunset.
---
Ms. Traci Dasher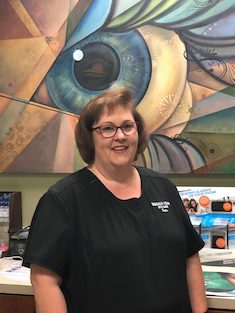 Traci joined Emerald Coast Eye Care in February 2015, bringing with her 25 years of customer care experience.  Traci is a life long resident of Panama City, FL.  She is a graduate of Mosley High School and a graduate of the Ophthalmic Medical Assisting program at Wallace Community College in Dothan, AL.  Traci enjoys spending time swimming, fishing, and camping with family and friends.
---
Mr. W. Larry Burger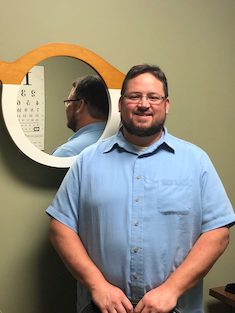 Larry joined the Emerald Coast Eye Care team in April of 2017.  He brings with him 20 years of Opticianry experience.  Larry was born and raised in central Michigan, where he got his start as an apprentice optician with RX Optical.  While apprenticing in Michigan, Larry became a certified optician by the American Board of Opticianry.  Because he has never been a fan of the cold, Larry finally convinced his wife to move south.  After arriving in Florida, he became a Florida Licensed Dispensing Optician.  Larry, his wife of 22 years, and three children now plan on remaining here since all of them now consider the Bay County area home.  Larry enjoys spending time with close friends and family on their farm.
---
Ms. Ashley Jones
(Picture and bio coming soon.)