Ordering an Annual Supply of Contact Lenses: How Could it Benefit YOU?
     If you are a contact lens wearer, we have
GREAT NEWS!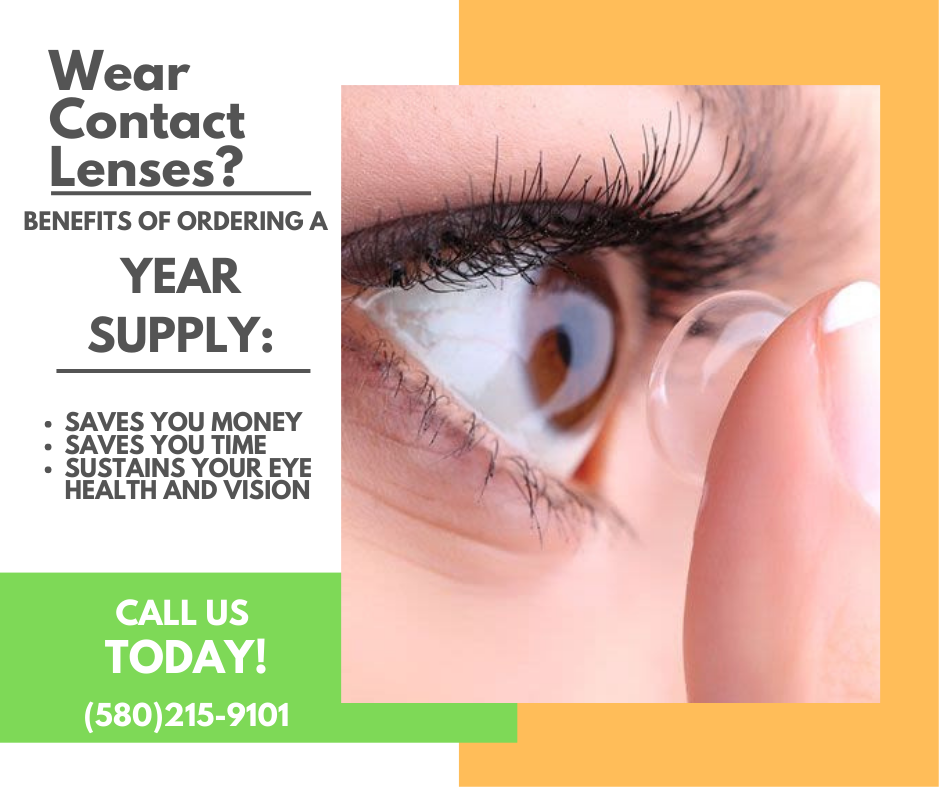 We can help you can save money, save time, and help you sustain optimal eye health and vision!
     As a contact lens wearer, you probably know that you have quantity options when it comes to purchasing a supply. You always have the option to purchase a full year (12 month) supply, a 6 month supply, and depending on your prescription and brand, you may even have the option for  a 3 month or 1 month supply. So why do we encourage you to go ahead and purchase a full year supply? What makes this the better choice for YOU? Well, we're glad you asked!
Here are 3 of the main reasons purchasing a 1-year supply could be the best choice for you:
IT SAVES YOU MONEY! Simply said, purchasing a year supply of contacts will help put money back in your pocket. When you order a full year's supply of contacts, you make yourself eligible for amazing rebates available through our office that significantly discount the final cost of your contacts. You also become eligible for free shipping directly to your home address.
IT SAVES YOU TIME! What is more precious than time? Time is really our most valuable resource. So why would you want to waste any of yours worrying about remembering to order your next 3-month supply of contact?  Why would you want to have the hassle of rushing to our office after work or after a busy school car line to pick up your contact lens supply when you could have it shipped directly to your front door for free with a year supply purchase? When you already have your year's supply of contacts you have peace of mind, and one less thing on your to-do list.
IT SUSTAINS YOUR EYE HEALTH AND OPTIMAL VISION! You know know as well as we do that vision through an old pair of contacts is definitely less than great. What you may or may not know is that over-wearing your contacts OFTEN causes all kinds of health problems– ulcers, eye infections, neovascularization (unwanted blood vessels forming on the cornea due to lack of oxygen), corneal abrasions due to severe dryness or torn lenses, and MORE– all of which are painful and can cause permanent vision damage. ​When you order your year supply, you will never find yourself stuck and tempted to wear an old pair of contacts because you're waiting on your next supply to arrive.
     Our goal as a practice is to help you achieve and maintain optimal vision and excellent eye health. Please, call or visit us today with any questions you may have, and let us help you improve your vision and your life!